The rotomolding
The leader in rotomolding in the west-Indian-Guyanese market, PROCAP creates, designs and sells recovery tanks with rainwater, septic tanks and wastewater treatment.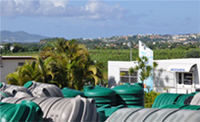 Three production units for closer proximity
In an effort to offer the immediate availability of our products and accessories, we have three manufacturing units, one in the artisanal area of Pelletier in Lamentin-Martinique, the second in the heart of the area of Jarry in Baie Mahault- Guadeloupe and the last in the area of Colery III Cayenne in Guyana.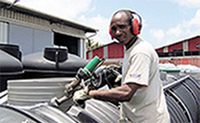 Manufacturing lead time
All our production is available in stock with small and medium capacities. With regard to large capacities, we are committed to providing our distributors with short deadlines.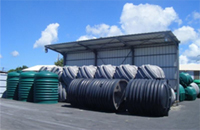 Innovation & quality are our priorities
We evolve our products by constantly introducing technical improvements. We strive to provide our distributors with high-quality manufacturing standards that meet strict specifications. Our team of qualified technicians is able to respond quickly to adaptations to the hollow bodies. (Additional holes, mounting, accessories, addition of grommets, welding…)
Our after-sales service and SERVICE +
We can organize on-site operations to carry out repairs on damaged tanks. We have professional equipment allowing us to make welds or repairs. We also offer various facilities according to the specific needs or requests of the client.