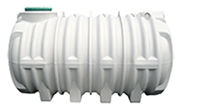 Septic tanks MiniCap ranges :
Minicap 3m3 from 1 to 5 EQU (from T1 to T5)
Minicap 4m3 6 EQU (T6)
Minicap 5m3 7 to 8 EQU (T7)
Minicap 6m3 8 to 10 EQU
The sanitation of an individual villa is composed of a pre-treatment element, the septic tank MiniCap (3m3 min). MiniCap must be completed with a treatment system which has been adapted to the permeability, topography and area of the land.
Monoblock : They are manufactured all at once, without welding joints, which allows them to resist the movements of the ground more effectively (Ground thrusts, earthquakes).
Robust : Due to the lateral longitudinal reinforcements and the domed structure, its mechanical strength once placed, is increased.